Sydney Mozart Society
Affiliated with the Mozarteum, Salzburg
Sydney Mozart Society brings you Mozart and much more from the 'Golden Age' of Chamber music.



Goldner String Quartet
Friday, 3 March 2017 at 8pm
Dene Olding (violin), Irina Morozova (viola), Dimity Hall (violin), Julian Smiles ('cello)
"The Goldner String Quartet is one of the ornaments of the Australian classical music scene." Limelight, 4 May 2015 
Tickets for this concert can be purchased in advance:
In person from The Concourse Box Office, Chatswood or from Ticketek agencies.
By phoning the Ticketek Theatre & Arts Line 1300 795 012.
Online at the Ticketek website.
Programme
Schubert        String quartet no 12 in C minor, D 703, Quartettsatz
Mozart            String quartet no 19 in C, K 465, Dissonance
INTERVAL
Beethoven     String quartet no 14 in C-sharp minor, op 131
About the Artists
Launched in 1995 and still retaining all four founding members, the Goldner String Quartet is Australia's pre-eminent string quartet. The players are well known to both Australian and international audiences through orchestral and solo performances, recordings and their concurrent membership of the Australia Ensemble@UNSW. 
The quartet has toured extensively overseas, to much critical acclaim. It regularly appears at major music festivals around Australia in addition to national tours for Musica Viva. Major  projects have included a 20th Century Retrospective and the Complete Beethoven Cycle recorded live for ABC Classics (winner of  2009 Limelight Award "Best Classical Recording"). New works are regularly commissioned for the Goldner String Quartet from Australia's leading composers.
To read more about the individual members of the Goldner String Quartet visit their website.
Programme Notes
SCHUBERT   String quartet no 12 in C minor, D 703, Quartettsatz 
Franz Schubert was 24 years old when in 1820 he began work on his string quartet number 12. After completing the first Allegro movement and several bars of the second slow Andante movement, he put the work aside and never returned to it. The work was given its first public performance in 1867. The score, edited by Brahms, was published in 1870. It was given the simple title of Quartettsattz meaning Quartet Movement.
While there has been much speculation about Schubert's reason for leaving the quartet unfinished, it is recognised as a significant work. Shubert was already an accomplished composer in many forms before he began the quartet, reaching new heights in the technical virtuosity and the emotional depth of the opening movement. It is a foretaste of his remarkable later string quartets.
The movement is in Sonata form. It begins with a theme of nervous apprehension that builds in tension and drama. The mood is soothed with the emergence of a warm sweetly melodic second theme. The development section expresses darker emotions, with insistent exchanges between violin and cello. In the recapitulation section, the second theme returns and intertwines gently and easily with a new third theme. A powerful restatement of the opening theme brings the movement to an exciting close. 
                                                                                                                           C. B.  
MOZART     String quartet no 19 in C, K 465, Dissonance
Adagio – Allegro / Andante cantabile / Menuetto: Allegretto /Allegro molto
In 1782 the appearance of Haydn's six op 33 string quartets filled Mozart with admiration and inspired him to undertake his own "long and laborious study" of the string quartet form. Between 1782 and 1785 Mozart composed a set of six string quartets, including the quartet we will hear tonight, which he published with a generous dedication to Haydn.  Upon hearing the quartets, Haydn commented to Mozart's father: "Before God, and as an honest man, I tell you that your son is the greatest composer known to me either in person or by name. He has taste, and, what is more, the most profound knowledge of composition."
Tonight's quartet has a slow tense discordant opening, which has led it being known as the "Dissonance" quartet. So perplexed by the opening were Mozart's publishers and musicians, they felt sure he had made a mistake in the manuscript. Haydn, who well understood the power of musical surprises and contrasts, declared ''If Mozart wrote it, it must be so."
After the unsettled opening, a bright theme emerges to banish tension and create in the first movement a world of sunshine and cloudless skies; a world that seems all the more radiant because of the contrasting discord left behind. Mozart's use of the 'cello in this movement is particularly masterful; in the opening bars it throbs ominously, then as the mood changes it adds richness and depth to the engaging melodies of the violins and viola.
A mood of tender intimacy is established in the second movement.  The delicate singing voice of the violin responds to the cello, evoking a quiet inner world of grace and contemplation. The third movement opens with the ethereal lightness of an elegant minuet followed by a more sedate contrasting trio.  The final movement is infused with energy as furious counterpoint and insistent rhythms bring the work to a joyous end.
In this quartet, there is a strong sense of Mozart's humanity and his unique ability to give musical expression to human happiness with all its nuances from tender intimacy and serenity to robust energy and good humour.
                                                                                                                            C. B.
BEETHOVEN   String quartet no 14 in C-sharp minor, op 18, 131
Adagio ma non troppo e molto espressivo / Allegro molto vivace / Allegro moderato – Adagio / Andante ma non troppo e molto cantabile / Presto / Adagio quasi un poco andante / Allegro
In 1822 Beethoven received a commission from Prince Galitzin of Russia to compose a set of three string quartets. He had not composed a string quartet for some twelve years, and after considerable thought he returned to the form using bold techniques and disparate thematic material. He composed the three quartets and then with still more musical ideas and energy, went on to complete two further quartets, one of which we will hear tonight, Op 131. Together these late quartets are one of the pinnacles of western music. They are commanding, majestic and heartfelt in their emotions and dazzling in their musical expression.
Beethoven considered Op 131 to be his finest quartet. It is a work of extraordinary range and intensity. Its seven movements are played without a break, producing a powerful flow of musical ideas and emotions. Interest never flags; different styles of expression, different rhythmic treatments, inventive variations, frequent key changes (through six different key centres) create strongly defined and surprising contrasts in mood.
The first movement of the quartet is a fugue. Its theme is explored and developed with rich tonal textures expressing such a visceral sadness and longing that Wagner considered it "a penitential prayer, a communion with God". The solemn polyphony of the first movement then gives way to melodic freshness and vitality in the second movement, a graceful gliding dance reminiscent of a folk dance.
The third movement is fleeting, little more than beautiful flourishes that introduce the quartet's central fourth movement a set of lyrical variations on a yearning, poignant theme presented by the violins. The variations begin gently. With each variation the ornamentation grows in brilliance, the expression becomes more expansive and the relationship between the instruments becomes more complex. The climax of the movement comes in the sixth variation with its soaring hymn-like grace. The unadorned original theme then returns to begin the final variation and bring the movement to a restful close.
An exuberant Presto movement follows, whirling with rhythmic and harmonic changes, full of impish humour.  It ends abruptly and is followed by a short and achingly beautiful Adagio movement. Another sudden change brings thundering chords to announce the final movement.  The movement is in Sonata Allegro form with a pounding turbulent main theme, contrasted with a second stately, contemplative theme. As the movement develops, restless energy alternates with moments of hesitancy. In the final return of the main theme, rapid passage work and dramatic variations create a momentum that propels the work to an exultant close.
For all its contrasts, different styles, and surprises, there is a satisfying unity to the quartet  as Gordon Kerry explains: "The thematic material often favours particular intervals with strong emotive characters, such as a tendency to dwell on notes a step half way from the tonic and dominant, variations of certain rhythmic figures are used throughout the work; the opening fugue acts as a kind of map for the key relationships of the whole work, with the result that radical harmonic excursions from movement to movement never sound arbitrary or irrational. Any sense of 'brokenness' is rendered illusory by Beethoven's cleverly concealed mastery."
                                                                                                                            C. B.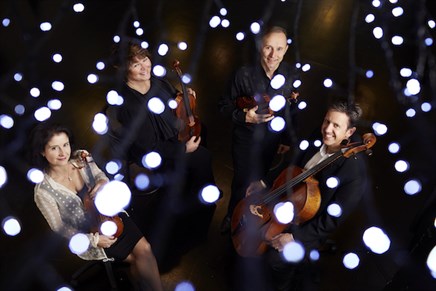 Photo credit: Keith Saunders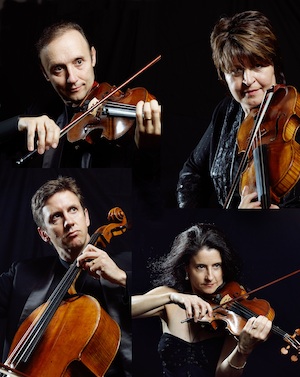 Our venue and how to access it
Our concerts are held in the Concourse Concert Hall, Victoria Avenue Chatswood. With its  superb acoustics, comfortable seating and many amenities, the Concourse Concert Hall is regarded as one of the best chamber music venues in Sydney.
Parking is available in the Concourse car park and in nearby shopping centre car parks. The venue is only a short walk from the Chatswood railway and bus transport interchange.
There are nearby restaurants and cafes, which give concert goers many options for dinner and socialising.
There is a licensed bar in the Concourse foyer where snacks, tea, coffee and drinks can be purchased before the concert from 7PM or during interval.
On concert nights, the Concourse foyer and terrace open at 7PM. Concert hall doors open at 7.30PM. Concerts begin at 8PM.
All tickets to Sydney Mozart Society concerts are general admission, seats are not numbered. The Concert Halll is spacious and good seating is assured.
Non-members are welcome
Single tickets for each of our concerts are very reasonably priced:
Adults, $45.90
Seniors/Pensioners, $42.85
Full-time student, $15.30
Children under 13, free
Tickets can  be purchased in advance:
In person from the Concourse Box Office or from Ticketek agencies.
By phoning the Ticketek Theatre & Arts Line 1300 795 012.
Online through the Concourse website or the Ticketek website.
A Ticketek service delivery fee applies when tickets are booked by phone or online.