Sydney Mozart Society
Affiliated with the Mozarteum, Salzburg
Sydney Mozart Society brings you Mozart and much more from the 'Golden Age' of Chamber music.



Australian Haydn Ensemble
Friday, 31 August 2018 at 8pm
Simone Slattery (violin), Matthew Greco (violin), James Eccles (viola), James Bush ('cello), Melissa Farrow (flute)
Photos of Simone, James and Melissa credit: Helen White
Programme
Boccherini                Flute quintet no 8 in G minor, op 19 no 2
Mozart                     String quartet no 14 in G major, K 387, Spring
Haydn                      String quartet no 35 in D minor, op 42, Hob III:43
Mozart                      Flute quartet no 1 in D major, K 285
About the Artists
Formed in 2011, the Australian Haydn Ensemble is now regarded as one of Australia's finest orchestras and chamber music groups. The ensemble specialises in music of the Classical era performed on historical instruments under the leadership of Artistic Director, Skye McIntosh. The ensemble has its own vibrant annual concert season; it tours nationally and has appeared at overseas venues and festivals. It's busy schedule includes recording, regional performances and educational projects.
The ensemble's concert for Sydney Mozart Society showcases five of its exceptional musicians: Simone Slattery (violin), Matthew Greco (violin), James Eccles (viola), James Bush ('cello) and Melissa Farrow (flute). Read more about the performers.
Programme Notes
With their historical instruments and consummate musicianship, these performers evoke the elegance and radiant character of classical music. Their concert begins with Boccherini's lushly vivid flute quintet. Two equally luminous string quartets from Mozart and Haydn follow. Mozart's beautiful flute quartet concludes the concert.
BOCCHERINI   Flute quintet no 8 in G minor, op 19 no 2 
Allegro e con un poco di moto / Minuetto con moto
There are 6 quintets for flute and strings in Opus 19. No 2 is the only one in a minor key.   It has a dramatic first movement in which the energy of the rhythm (along with an underlying sadness expected of a minor key) creates a feeling of tensely swirling, surging passions.  This is unusual for Boccherini who was at his most characteristic in sweet, song-like melodies.  The second movement is a minuetto in a 'fast-fast' succession.
His style is both masterly and elegant.  The use of strong contrasts to create subjective shifts of mood is evident in this little gem.
Marco Mangani, of the Centro Studi Luigi Boccherini, writes that Boccherini was contracted to compose 3 collections per year, each of 6 compositions, for his patron the Spanish Infante Don Luis. Opus 19 was his second collection of 1774. The quintets are diverse in style and "display all the resources, technical and expressive, common in Boccherini's major works….Boccherini does not sacrifice his typical 'symphonic' concept of chamber music (octave doublings, full 'orchestral' chords and so on) while emphasizing the role of the flute. The strings-writing is fully integrated into the texture, rather than being of the more 'insignificant' type associated with concertos of the period."
Luigi Boccherini was born in Lucca in 1743, about a dozen years before Mozart and outlived him by roughly another dozen, dying in Spain in 1805. Although he spent most of his maturity in Madrid, his works were widely published and he was admired throughout Europe as a composer of instrumental music and a virtuoso cellist.
 B.J.
MOZART        String quartet in G, K 387
Allegro vivace assai / Menuetto: allegretto / Andante cantabile / Molto allegro
Mozart's six so-called "Haydn" quartets, published in Vienna in 1785 as opus 10 and listed in Kochel's first catalogue as K 387, K 421, K 428, K 458 (Hunt), K 464 and K 465 (Dissonance), were written between 1783 and 1785.
Haydn had a great influence on Mozart's earlier musical development, as Mozart acknowledged by dedicating to Haydn a set of string quartets.  Einstein writes that the "impression made by the [opus 33] quartets of Haydn was one of the profoundest Mozart experienced in his artistic life. [. . .].  This time, he learned as a master from a master; he did not imitate; he yielded nothing of his own personality".  The musicologist, H C Robbins Landon, says that "on the whole, the six quartets dedicated to Haydn are even profounder and more accomplished masterpieces than the later three dedicated to the King of Prussia".  
Alan Kriegsman says that the "first quartet in the series [which we are to hear in this concert] is a boundlessly effusive creation that, for all its spill of emotion, is yet contained within absolutely ideal proportions. [. . .] The very first phrase is an octave-spanning upward spring, bold and memorable in outline".
The minuet, with its trio, are placed second in this work.   In this case, a contrast to the first movement's upsweep is provided by the gently falling phrases of the opening bars.   The slow movement, placed third, has four separate themes.
In the final movement, which opens with a four-note theme, the instruments imitate each other in close succession, but this is not a fugue even though one may be superficially suggested.   After a false ending consisting of loud chords, Mozart brings the work to a quiet close, still using the four-note theme that has pervaded the whole movement.
                                                                                                                            M. C.
HAYDN  String quartet in D minor, op 42, Hob III:43
Andante ed innocentemente / Menuetto. Allegretto – Trio / Adagio e cantabile / Finale. Presto
Haydn composed the String Quartet in D minor, op 42 in 1785. He was  53 years old and in the service of the Esterházy family, composing music for events at their vast estate. His fame as a composer was widespread in Europe and it is thought that he composed the quartet as part of a commission from a Spanish patron for several short quartets. The quartet was published by Antaria in 1786.
The work opens with a captivating melody, truly innocentemente. The apparent artlessness and simplicity of this melody is deceptive. Gradually, the music swells and builds in sonata form; the effect is one of uplifting and dignified solemnity. 
The second movement is in D major. It has a vibrant quality, full of joy and delight. 
The third movement has a stately nobility. It is based on a single melody, introduced by the violin. Haydn's sustained development of the melody without significant variation or contrast creates an intense and gripping beauty.
The final movement has a fugue-like structure based on a short dramatic theme. The continual re-emergence of this theme and rich counterpoint develop a forceful momentum  before the work comes to a sudden and unexpectedly quiet close.
The quartet has a surface that is polished, beautiful and courtly. Beneath the surface, the musical technique is masterful. There is symmetrical precision in the timing, length and modulations of each movement. Variations in rhythm, melody and keys remain within a  relatively narrow range, creating effects of  perfect proportion and elegant restraint.
                                                                                                                            C. B.
MOZART          Flute quartet in D major, K 285
Allegro / Adagio / Rondo
Written before the "Haydn concertos" and 3 years after Boccherini's flute quintet, this piece shares the quintet's brevity but not its symphonic style. K285 is a gallant Rococo flourish in concertante (chamber concerto) style, letting the flute sparkle as Mozart highlights its innate characteristics. It has most of the melodic and virtuosic material as the strings artfully accompany.
The flute leads the first sonata-form movement with a lively melody and introduces the poignant second theme.  Only in the central development section do we hear it converse with its companions before the wonderfully elaborated recapitulation of the themes. In the slow movement that follows the flute floats a wistful aria in B minor, on a delicate cushion of plucked strings. Alfred Einstein wrote that this movement, suffused with "the sweetest melancholy, [is] perhaps the most beautiful accompanied flute solo that has even been written." The mood is quickly brightened as without pause we are swept up in the frivolity of an exuberant, playful finale rondo that returns to D major.
K285, completed in December 1777, is one of 3 quartets that Mozart composed for an amateur flutist and "gentleman of means" when, newly unemployed and travelling Europe with his mother, Mozart spent a few months in Mannheim no doubt canvassing opportunities with one of the best orchestras in Europe but distracted by a new love interest and an urge to compose opera. The next leg of the journey was to Paris and the flute pieces would help pay the bills.
Mozart finished only part of the commission and settled for almost half the fee.  He wrote to Papa Leopold, "Of course, I could merely scratch away at it all day long: but such a thing as this goes out into the world, so it is my wish that I need not be ashamed that it carries my name."
B.J.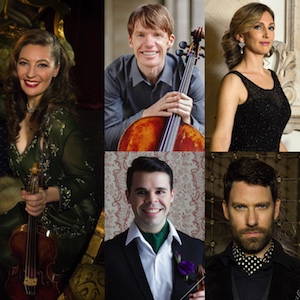 Our venue and how to access it
Our concerts are held in the Concourse Concert Hall, Victoria Avenue Chatswood. With its  superb acoustics, comfortable seating and many amenities, the Concourse Concert Hall is regarded as one of the best chamber music venues in Sydney.
Parking is available in the Concourse car park and in nearby shopping centre car parks. The venue is only a short walk from the Chatswood railway and bus transport interchange.
There are nearby restaurants and cafes, which give concert goers many options for dinner and socialising.
There is a licensed bar in the Concourse foyer where snacks, tea, coffee and drinks can be purchased before the concert from 7PM or during interval.
On concert nights, the Concourse foyer and terrace open at 7PM. Concert hall doors open at 7.30PM. Concerts begin at 8PM.
All tickets to Sydney Mozart Society concerts are general admission, seats are not numbered. The Concert Halll is spacious and good seating is assured.
Non-members are welcome
Single tickets for each of our  2018 season concerts are very reasonably priced:
Adults, $45.90
Seniors/Pensioners, $42.85
Full-time student, $15.30
Children under 13, free
Tickets for our 2018 concerts can  be purchased in advance:
In person from the Concourse Box Office or from Ticketek agencies.
By phoning the Ticketek Theatre & Arts Line 1300 795 012.
Online through the Concourse website or the Ticketek website.
A Ticketek service delivery fee applies when tickets are booked by phone or online.