Sydney Mozart Society
Affiliated with the Mozarteum, Salzburg
Sydney Mozart Society brings you Mozart and much more from the 'Golden Age' of Chamber music.



Ian Munro and Howard Penny
Friday, 18 September 2020 at 8pm
Ian Munro (Piano) and Howard Penny (Cello)
Ian Munro photo credit: Keith Saunders
Howard Penny photo credit: Lucia Possas
Tickets for this concert can be purchased in advance
In person from The Concourse Box Office, Chatswood or from Ticketek agencies.
By phoning the Ticketek Theatre & Arts Line 1300 795 012.
Book tickets online through Ticketek
Programme
Franz Xaver MOZART  Variationen über einem Marsch aus 'Aline' 
CHOPIN Variations on 'La ci darem la mano' from Mozart's Don Giovanni,  Op 2
CHOPIN Introduction and polonaise brillante in C major, Op 3
INTERVAL
W. A. MOZART Piano sonata no 11 in A major, K 331, Alla Turca
W. A. MOZART Allegro Anh. 48; Andante KV 402 (completed IDM) 
HUMMEL Cello sonata in A major, Op 104
About the Artists
Ian Munro is one of Australia's most distinguished and awarded musicians, with a career in solo piano and chamber ensemble performance that has taken him across the globe. He is also a highly regarded composer.  Cellist Howard Penny has also enjoyed a distinguished international career, performing in many of Europe's most acclaimed orchestras and chamber ensembles.
Programme Notes
Chamber music is often called "the music of friends", a particularly apt description for this concert.  There is great joy in the musical friendship of Ian Munro and Howard Penny. These renowned performers weave piano and cello together in sounds of profound beauty, harmony and balance.  Together they express the warmth and liveliness of works by two members of the Mozart family ( a rare treat for a concert audience), the dramatic intensity of Chopin and the sparkling elegance of Hummel. 
Detailed programme notes for each work will be available nearer to the concert date.
| | |
| --- | --- |
|   |  Franz Xaver Mozart, son of Wolfgang Amadeus Mozart, oil painting by Karl Gottlieb Schweikart (1772-1855). Public Domain. |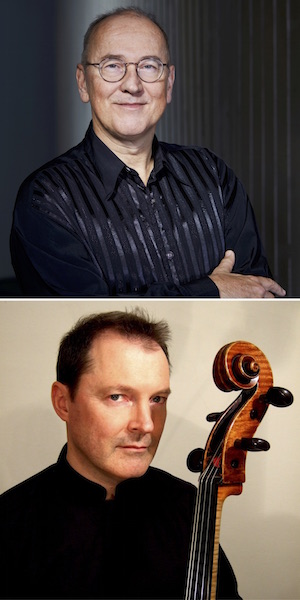 Our venue and how to access it
Our concerts are held in the Concourse Concert Hall, Victoria Avenue Chatswood. With its  superb acoustics, comfortable seating and many amenities, the Concourse Concert Hall is regarded as one of the best chamber music venues in Sydney.
Parking is available in the Concourse car park and in nearby shopping centre car parks. The venue is only a short walk from the Chatswood railway and bus transport interchange.
There are nearby restaurants and cafes, which give concert goers many options for dinner and socialising.
There is a licensed bar in the Concourse foyer where snacks, tea, coffee and drinks can be purchased before the concert from 7PM or during interval.
On concert nights, the Concourse foyer and terrace open at 7PM. Concert hall doors open at 7.30PM. Concerts begin at 8PM.
All tickets to Sydney Mozart Society concerts are general admission, seats are not numbered. The Concert Halll is spacious and good seating is assured.
Non-members are welcome
Single tickets for each of our 2020 season concerts are:
Adults, $50
Seniors/Pensioners, $47
Full-time students, $20
Children under 13, free admission
Tickets can  be purchased in advance:
In person from the Concourse Box Office or from Ticketek agencies.
By phoning the Ticketek Theatre & Arts Line 1300 795 012.
Online through the Ticketek website.
A Ticketek service delivery fee applies when tickets are booked by phone or online.